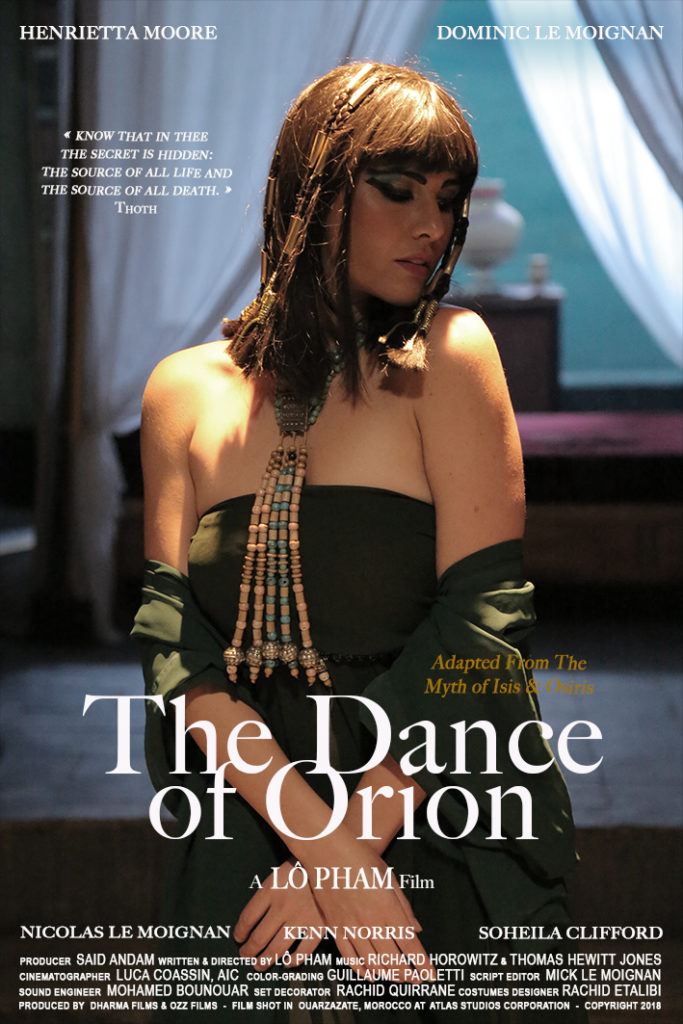 Ancient Egypt. The powerful King Osiris is back at his Royal Palace after a long journey across the country to educate his people and teach them how to cultivate their lands. His beloved wife, Queen Isis, has suffered greatly from his absence and rejoices in his return, while his jealous brother, Seth, sets a plan to take over his throne…
A medium-length film written & directed by Lô Pham
Music composed by Richard Horowitz (Golden Globe Winner) and Thomas Hewitt Jones
With: Henrietta Moore, Dominic Le Moignan, Soheila Clifford, Nicolas Le Moignan and Kenn Norris.
Original version in English with French subtitles.
Photos taken on set during the shooting at Atlas Studios, Ouarzazate, Morocco:
"Leap clear of all that is corporeal, and make yourself grown to a like expanse with that greatness which is beyond all measure; rise above all time and become eternal; then you will apprehend God." – Thoth-Hermes Trismegistus
The Dance of Orion is a film adaptation of the myth of Isis and Osiris, which is the most elaborate and influential story in ancient Egyptian mythology. The myth, with its complex symbolism, is integral to ancient Egyptian conceptions of kingship and succession, conflict between order and disorder, and especially death and the afterlife. 
According to Jean Houston, internationally renowned philosopher, psychologist, the myth of Isis and Osiris "takes us deep into the mysteries of Egypt, land of the ancient soul within us all, (…) and gives modern readers a design for the marriage of body and soul, life and death, the tangible and the hidden. (…) The myth re-creates nothing less than a moment of Egyptian magic that allows us to enter a consciousness that is the gateway to transcendent love."

The earliest mentions of the Osiris myth are in the Pyramid Texts, the first Egyptian funerary texts, which appeared on the walls of burial chambers in pyramids at the end of the Fifth Dynasty, during the 24th century BCE.  (source: Wikipedia)
Director's interview on TV:
For a distribution deal or to organize a public or private screening of the film in your area, please contact me.